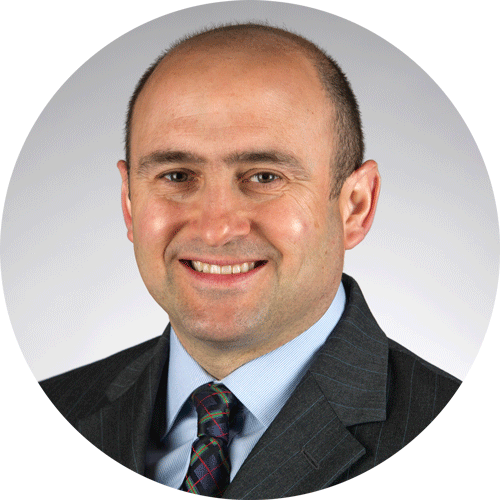 John Rooney
Monday, 27 November 2023
Career Development
The time between Thanksgiving and Christmas is one of my favorite times of the year at Mendoza. We look back on the fall activities, look ahead to the next semester, and outline how we will continue to work with graduate students on their career development. This year, I want to provide an overview of Mendoza Graduate Career Development and thoughts on moving forward as One Mendoza. 
What we do:  The Career Development team embraces the College's mission to Grow the Good in Business.  Our role is to empower students in their career journeys.  Our vision is to create leaders who are lifelong stewards of their careers.  We pursue this vision by valuing inclusion, servant leadership, and relationships.  Our strategy is built on four pillars, illustrated by the graphic below.  The top two pillars symbolize how we work closely with key partners including alumni, employers, and internal stakeholders at the University.  The bottom two pillars symbolize the core competencies of our team, focusing on career coaching and career curriculum.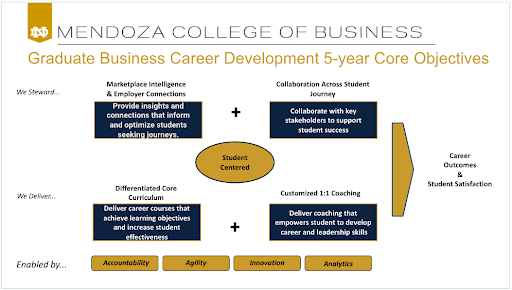 Our success is measured by career outcomes, course instructor feedback (CIFs), and student and stakeholder feedback. We work with all of the Mendoza graduate programs. The 2023 MBA Employment Report documents our most recent MBA outcomes.
Current Focus and One Mendoza: As the Career Development team moves forward, we will continue to define our role in executing the College's Strategic Framework. We approach our work inspired by the concept of One Mendoza, which reflects our goal to have our departments operate with a unified purpose, aligned objectives, and a common culture. This is important for Career Development because our students' career success depends on their successfully working with, and integrating knowledge from, separate but related groups: admissions, student services, faculty, staff, and alumni. We look forward to increased success from our students as we all work together to support them.
The fundamental belief that every human being is naturally creative, resourceful, and whole informs our career coaching, and this belief helps transform us all into our best and most authentic selves. With the spirit of this belief, I encourage all of you to enjoy this special time of year at Mendoza.
Best Regards,
John Rooney
Senior Director
Graduate Business Career Development and Alumni Relations